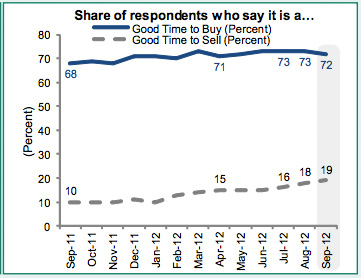 The Miami Beach Real Estate market news for luxury Miami Beach waterfront home-owners trying to sell is heading in positive direction. With the demand for single-family Miami Beach homes on a steady increase, many Miami Beach realtors and real estate experts agree that the upcoming  high season in Miami Beach, as well as the market's positive indicators, like record-breaking Miami Beach sales, makes it the ideal time to sell. In fact, Fannie Mae just released the results of September's National Housing Survey which delivers good news if you are trying to sell your Miami Beach home or buy a new home. Americans at large are feeling positive about the housing market and economy in general. In South Florida especially Miami Beach and surrounding areas have seen price increases as inventory dwindles and remaining Miami Beach homes on the market are sold.
"Consumers are showing increasing faith…" said Doug Duncan, senior vice president and chief economist of Fannie Mae. "Home price change expectations have remained positive for 11 straight months, and the share expecting home price declines has stabilized at a survey low of only 11 percent. Furthermore, the Federal Reserve's latest round of quantitative easing has caused a large drop in mortgage rate expectations. Friday's September jobs report, including the strong upward revisions for prior months, a sizable increase in earnings, and a sharp decline in the unemployment rate, should provide further impetus for improving consumer confidence in the housing market." The Miami Beach residential market is still one of the top destinations for affluent buyers and investors of luxury and waterfront property. The arrival and interest of foreign buyers attracted to prime waterfront Miami Beach homes and real estate also spells a great success for home owners looking to sell on many of Miami Beach's most prestigious Islands and communities.
Miami Beach is on the top of the recovering housing market due to international appeal and demand and Nationwide, With future expected moderate increases in home prices and current low interest rates, nineteen percent of survey respondents agree that "now is a good time to sell" the highest rate since June of 2010. Sixty-nine percent said they would buy if they were going to move. Seventy-two percent of survey participants stated that "now is a good time to buy." Its a win-win situation for Miami Beach Sellers as well as Buyers.
On a grander economic scale, forty-four percent of survey respondents also felt that their personal finances were seeing improvement and seventeen percent reported a significant increase in their household income in the last year. Despite the improvement, however, thirty-four percent of the 1,000 survey participants still reported significant increases in household expenses.
To find out more details and see graphs of the survey results, please click here.  If you would like to hear what these statistics mean for you and your Miami Beach home, please give me a call!