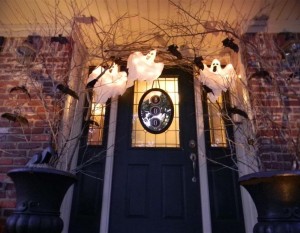 The fall season in Miami Beach is here! Despite the warm sunny weather and swaying palm trees there's a crispness in the air as autumn approaches the  Miami Beach Island Communities and their waterfront Miami Beach homes.  This is a time to also prepare your mind and Miami Beach Home for the seasons upcoming holiday. The  Miami Beach Real Estate market has experienced a surge in buyer interest for prime waterfront luxury homes in top Miami Beach communities  which presents a great advantage for sellers.  Decorating your Miami Beach waterfront home during the holiday or changing seasons is a great way to put a spotlight on your property while showcasing neighborhood pride. The upcoming fall festivities should pull to the mind images of goblins, ghosts and ghouls and memories of sweet and wholesome treats. This time of year is one where cobwebs on your home, be they spun from nearby spiders or purchased from a local craft store, have a tendency to be in vogue. As you think up ways to make your Miami Beach luxury home more festive this season, keep in mind that simplicity and detail can go a long way to creating a look that's spooky for visitors without being considered scary.
Some easy ways to manufacture a ghoulish look can be found with just a few basic items. Consider taping some dark colored transparent "spooky" fabric to your front door to darken up the look of your home a bit. A few rubber bats or ghosts hung just right in the eaves or a lone creature or skeleton leaning over a balcony can create a spooky element to any home in a flash, too!
If you want to add a little more menacing decor to your entrance, consider webbing, plastic fencing, tombstones or skulls. A crafty and cute touch can be had with an assortment of miniature pumpkins or carved, lit jack-o-lanterns, as well. As you prepare the entrance to your luxury Miami Beach home, consider who your visitors will be and how you can add to their fun. Perhaps a candy jar or motion detecting decoration is just the right touch to add some fright.
On the night of any gathering in your home, consider renting a fog machine or playing a bit of scary music to add to the intrigue and mysteriousness as guests enter your home. Plan for games and stories and use lighting that will enhance the mood in your home, as well. You'll find that simplicity will allow you to embrace some traditional fright into the decor of your Miami Beach home and still provide for plenty of tricks and treats.