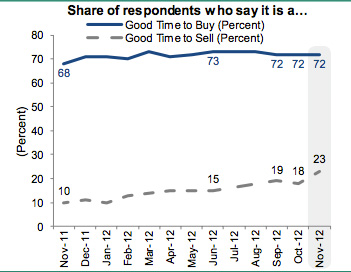 The latest updates on the Real Estate market, in areas such as Miami Beach, indicate that headlines about the fiscal cliff may lead many Miami Beach sellers and buyers to think that South Florida's and nationwide housing sales/transactions are tapering off. According to the Fannie Mae National Housing Survey for the last month, that is not the case. In fact, Foreign buyers and investors as well as Americans are displaying more confidence in the Miami Beach real estate and the overall national housing market and economy than previously shown.
If your a Miami Beach waterfront home-buyer who wants to sell, there is no time like the present. The market is ideal for sellers and buyers of Miami Beach luxury homes. Single-family homes prices are appreciating in value and selling fast in all areas of Miami Beach including waterfront luxury homes, island communities in Miami Beach and dry lots in prime Greater Miami Beach areas.
Doug Duncan, senior vice president and chief economist of Fannie Mae stressed in a recent report that, "Consumer attitudes toward both the economy and the housing market continue to gather momentum, (Miami Beach especially leads top markets within luxury homes market) with many of our 11 key National Housing Survey indicators at or near their two-and-a-half-year highs." He continued by concluding that "attitudes about the current selling environment continue to improve (especially in waterfront and island communities on Miami Beach), with a significant increase in those saying it would be a good time to sell."
Five percent more of the November survey respondents believe now is a good time to sell a home (shown at 23%) as compared to October, recording the highest percentage in over 17 months. Nearly 41 percent of those surveyed felt that mortgage rates will be increasing soon and 14 percent believed home prices will decrease in the next twelve months, while 37 percent believed home prices would increase. Respondents are confident on the ability to get a mortgage, with 51 percent believing in the possibility.
Forty-eight percent of those surveyed predicted increases in rental prices and 67 percent reported that they would purchase a home if the need to move arose, giving you more options should you decide it is time to sell your home. Click here to access the Fannie Mae November survey data and graphs.