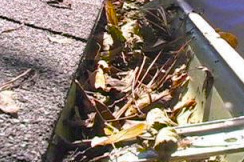 Cooling weather trends bring with them freezing rain and snow to the Northern States but for South Florida's Miami Beach luxury homes in the many residential neighborhoods such as Palm Island, Star Island, Sunset Islands and many more, extreme and harsh winter weather is minimal. For anyone interested in buying a Miami Beach real estate, there are many options to choose from that are perfect to escape the winter blues of the North.
As a tropical and sunny city, Miami Beach's island landscape is bordered by the waters of Biscayne Bay and the Atlantic Ocean enjoying year round temperatures perfect for the beach and leisure lifestyle. But heavy rain, lightning storms, hurricanes, floods and other natural weather occurrences from seasonal changing temperatures can also result in damage to Miami Beach island homes.
Now's the time to consider making needed preparations to your home in Miami Beach, from roof repairs and landscape care to cleaning the rain gutters to make sure your home is safe to weather the storms. When caring for your luxury waterfront home in Miami Beach its good to know that with the rain season, surprisingly, clear rain gutters can do a lot to help secure your entire residence by protecting windows and doors, siding and even your homes foundation from too much concentrated moisture.
Clearing your gutters of leaves and other objects requires the use of a ladder, so if you are afraid of heights or cautious about your abilities, you may consider hiring a handyman to complete this task. For those of you who enjoy the adventure of home repairs, however, clearing your gutters can be relatively easy if you follow the tips below.
Use a safe and solid ladder to reach your gutters. You will need to move the ladder frequently (do not try to stretch to reach far areas while standing on your ladder).
Wear protective gear, such as goggles and work gloves – you never know what you'll find up there!
Use the right tools. A small hand shovel (even a plastic sand shovel) and bucket or disposable bag should be sufficient. You can also use a scrub brush as needed.
Test it out. Once the gutter is clear, use your garden hose to have a practice storm and track the flow of water racing through your cleaned rain gutter.
If all is well, your work is complete. If not, look closely at your drain pipes to make sure they are not clogged, as well, or evaluate is your gutter slope needs to be adjusted.
Clearing your rain gutters should be done at least once a year, depending on where your home is located. If you find your gutters require care more often, you may want to consider purchasing covers for them. With South Florida seeing an increase in home sales activity and price increases, now is the time to make preparations so your island or waterfront luxury home can be in the best shape for potential buyers looking to purchase single family South Beach homes during the high season.